Here's the reason I haven't posted in three weeks: my first long-form story for the Montana Kaimin. All photos by the very talented Samuel Wilson.
Medical marijuana in a 'weird situation' in Montana
Posted:
Friday, March 15, 2013 1:58 am
|
Updated: 4:05 am, Fri Mar 15, 2013.
The carpet of a smoky, one-bedroom apartment overlooking the Clark Fork River is dotted with cigarette burns — reminders of days when powerful narcotic painkillers became too much for the 110-pound woman whose life fills those small rooms.
She's impressively spry for how sick her body is from leukemia, severe degenerative scoliosis and a damaged heart after multiple major cardiac arrests. But her life has gotten much easier since she moved to Montana from the Southeast several years ago.
"I found peace here," she said. "And a lot of the peace is that I can get the medication I need legally."
That medication is marijuana — and it has taken the place of three prescription pain killers that used to make her tired and groggy, sometimes so much so that she would fall asleep sitting up.
"Next thing you know, the cigarette is on the floor and so are you," she said, shaking her head.
"You smoke enough to take the edge off the pain," she said, standing hunched over in her kitchen, her spine contorted from scoliosis and previously broken ribs. "The cannabis doesn't get rid of the pain, it just helps me ride the flow."
She told her story on the condition of anonymity because she lives in a federally-funded retirement home and could be thrown out for using medical marijuana.
"If they put me out, I literally have nowhere to go," she said with a nervous look across her usually smiling face.
Marijuana is illegal under federal law, regardless of whether it's used as a medicine.
In her mid-60s, she's just above the age group of most medical marijuana patients in Montana — 51 to 60, according to the Montana Department of Public Health and Human Services.
If Montana's medical marijuana system were repealed, she said she wouldn't be able to go back to pharmaceuticals knowing "there's something better, something that keeps me calm and keeps me pain free."
"I'd have to go underground again," she said, recalling how she used to buy marijuana through college students who knew how find it on the street. "That's just the honesty of it."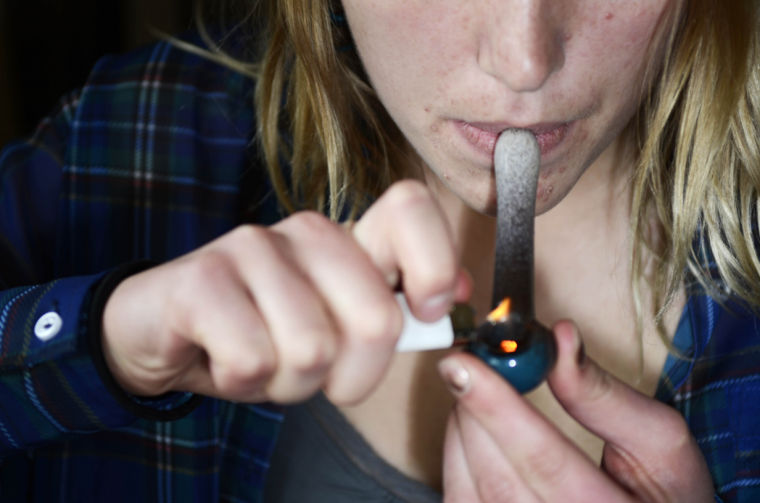 Samuel Wilson/Montana Kaimin
---
Hers is not the only life that has been complicated by contradictory laws from state and federal governments.
No matter what a state has on the books concerning marijuana, the federal government considers it a schedule one drug, along with heroin and many psychedelics. Schedule one, the most strictly regulated category in the federal Controlled Substances Act, means marijuana has no medical use, cannot be used safely and has high potential for abuse.
While campaigning in 2008, Barack Obama stated several times that, if elected, his administration wouldn't pursue medical marijuana patients or providers if they were clearly acting within the realm of state law. After the election, U.S. Attorney General Eric Holder confirmed that as the administration's policy.
In the summer of 2009, with apparent federal approval, Montana's medical marijuana industry took off. For almost two years, it was a booming mess of downtown storefronts, with everyone's roommate boasting a "green card" certifying his or her supposedly legitimate need to smoke, and grow, medical marijuana. There were few rules and it wasn't difficult to find someone who knew how to get around them.
Meanwhile, legitimate patients were caught up in the hysteria of a state divided between those who saw the outlandish system as a source of idiosyncratic pride, and those who were enraged by it.
Two years ago, a major upset hit Montana's medical marijuana system.
On March 14, 2011, hours, at most, after the Legislature refused to repeal the state's entire medical marijuana system, a coalition of state and federal agencies — including the FBI and the Drug Enforcement Agency — raided 24 medical marijuana businesses with guns drawn, destroying around $800,000 worth of plants and arresting employees.
"We won't know, probably ever, what motivated them," said Chris Lindsey, president of the Montana Cannabis Information Association and, at the time of the raids, an attorney for several dozen caregivers.
"That's the 64-thousand-dollar question," he said. "Why, in Montana, did this happen this way?"
Lindsey said three factors likely contributed.
First, the Montana Legislature failed to regulate the system effectively, so it was difficult for providers to be in compliance with state law when the laws were ambiguous and didn't address important aspects of the business. It was easy for federal agencies to accuse businesses of violating state law.
In addition, 24 raids were enough to smack down the state's entire industry and send a clear message.
"We're a cheap date," Lindsey said. "Your law enforcement dollar goes a long way in Montana. It doesn't take a lot of raids to completely chill the industry here."
For comparison, he added that to achieve the same effect per capita, California would require 900 raids in a single day.
And lastly, Lindsey said, the Montana Legislature was more supportive of the raids than other states' politicians.
"Montana loves to think of itself as libertarian," Lindsey said, "but it really only applies to guns and health care."
The raids traumatized the industry, laying the groundwork for the Legislature to strike a death blow and end medical marijuana in Montana for the foreseeable future.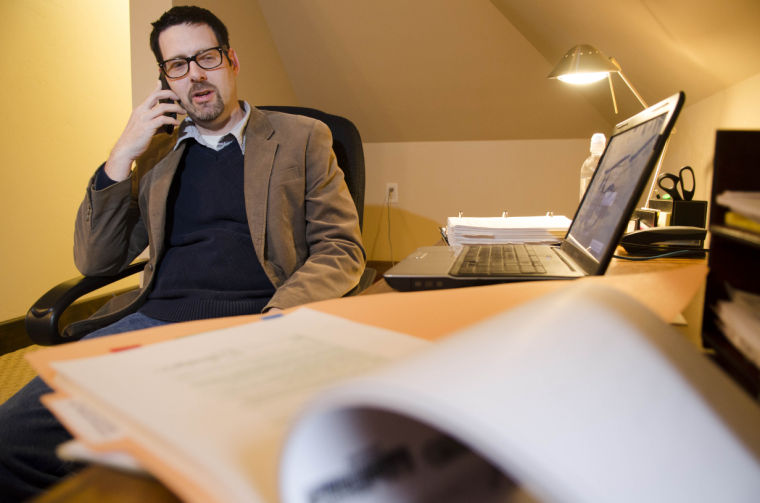 Samuel Wilson/Montana Kaimin
---
The Legislature did strike. But the industry fought back.
Days before the end of the 2011 legislative session, Senate Bill 423 easily passed both houses of the Legislature with broad Republican support and became law without former Gov. Brian Schweitzer's signature.
The bill replaced the original medical marijuana program with a law Lindsey said was designed to decimate the industry with new rules, making it impossible to run a medical cannabis business.
"We now have a law that was designed not to regulate because they didn't think there would be anything to regulate," Lindsey said.
The new law also changed the terminology of the program — a subtle testament to what the Legislature thought of its legitimacy. Businesses selling medical marijuana, formerly known as "caregivers," became "providers" under the new law; customers of these businesses, formerly "patients," became "card-holders."
The Montana Cannabis Information Association sued and won a preliminary injunction that blocked five important parts of the law from going into effect.
These five sections would have limited a medical marijuana provider to serving three card-holders, prevented a provider from accepting anything of value for its product, banned all forms of advertising, allowed warrantless searches of providers, and required doctors who recommend medical marijuana to more than 25 patients a year be investigated, at their own expense, by the state.
If those stipulations hadn't been declared unconstitutional in district court, SB 423 would have destroyed the state's medical marijuana industry and most patients would have been left without a legal source for their medicine, except to grow it themselves.
Lindsey said that's the biggest reason his organization brought the suit.
"We couldn't just walk away," he said. "The lawsuit continues for as long as it takes. All that's happened is we've been fighting for the injunction — and that's just the prelude to the real fight."
If the ongoing lawsuit fails, the five blocked provisions of SB 423 will be back and in full effect, but any surviving businesses will still be unregulated.
But if MTCIA wins the suit, the judge could choose to overturn the entire law, as requested, or he could make the injunction permanent. The latter, Lindsey said, is more likely. It's anyone's guess when the case will be decided.
Montana will remain in limbo until then, unless the Legislature acts.
"On the state level, there's nothing to prevent an exact repeat of what we had in 2009 and 2010," Lindsey said. "The only check is the threat of federal action."
The federal action that started it all worked its way into Lindsey's personal life, too.
"About six months after the raids," he said, "I got a call from the DEA asking me to come down and talk to them, which is never really a call you want to get."
His business involvement with Montana Cannabis, one of the businesses that was raided, ended more than a year earlier, but he hadn't reported the business' federally illegal actions to police, so in their eyes, he was a conspirator.
As a member of the conspiracy, Lindsey, 45, was charged with eight felonies, including possession with intent to distribute. Each charge carried a mandatory minimum sentence for a total of 85 years in prison.
"There was no defense," Lindsey said. "Was I growing marijuana? Yeah. Was I preparing to sell it? Yes."
Being a martyr wasn't an option. Lindsey and his wife have serious health problems and a nine-year-old son at home. He said he couldn't go to trial and risk abandoning his wife and son, even to make a point about the dangerous confluence of state and federal policies.
Instead, he pleaded guilty to conspiracy to maintain a drug-involved premise, a lesser charge with no mandatory minimum sentence and got five years of probation and $288,000 in fines. That figure represents his portion of the $1.7 million in gross income Montana Cannabis made while it was operating. Even though much of the income was paid out in taxes and other business expenses, the federal government considered it illegal drug money that had been laundered and must be paid back.
Lindsey's license to practice law was suspended because of his conviction and he is now working as a paralegal in Missoula.
---
In March 2011, near the end of the industry's hey-day, almost 5,000 businesses in Montana were dispensing medical marijuana, according to the Montana Department of Public Health and Human Services.
Now 300 remain, but they operate quietly, in a strange political purgatory. The storefronts have been torn down. The number of patients has fallen drastically from just more than 30,000 in June 2011, the month before SB 423 went into effect, to about 7,500 today.
Around 5,000 of those patients get their marijuana from a provider, as opposed to growing it themselves. And so far, the state refuses to tax those transactions.
That's an odd position for a potentially profitable industry.
"We're a group that actually wants taxes and regulations," Lindsey said.
"The reality is that our Legislature just doesn't like dealing with this at all," he added. "I think they would prefer to ignore it and just hope that it goes away. Anytime you start talking about marijuana and building a system to regulate it, people say our society is just about to come unhinged."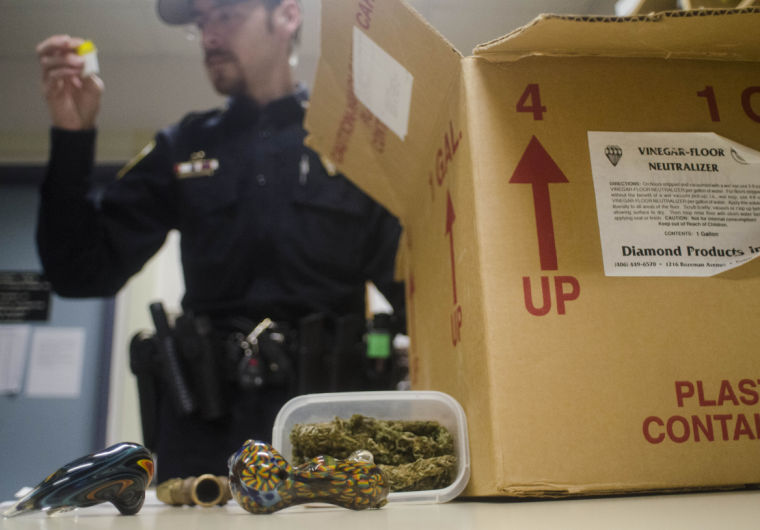 Samuel Wilson/Montana Kaimin
---
Only two legislators have introduced bills to reform the medical marijuana system this session.
Rep. Kelly McCarthy, D-Billings, introduced four bills that would have eliminated the sections of SB 423 that are enjoined, but all died after failing to make it out of committee last month.
Two bills introduced by Missoula Democratic Sen. Dave Wanzenried fell to similar fates, but a third still stands.
Senate Bill 377 would have the same effect as McCarthy's four bills — removing the sections of SB 423 that are suspended by the lawsuit — and would also establish a system of regulation and taxation.
"It puts into place a regulatory system that's more comprehensive and more reasonable than the one we have in place now," Wanzenried said.
The bill also would establish a new position for marijuana exchange brokers.
Nathan Pierce, the director of Montana Coalition for Rights, the group that helped draft SB 377, said this would solve a common supply problem for providers. Marijuana is a difficult crop to grow and, as with any agricultural endeavor, harvests aren't guaranteed. Some growers end up with more than they can sell, while others see their crops fail.
"It's going to be a lot like a real estate broker," Pierce said. "You have a buyer and seller. The exchange broker would just be there to facilitate the exchange" between two providers.
Under the bill, brokers would have to pay $1,500 each quarter to maintain their licenses.
Quarterly fees to be paid by providers would include $1,000 for each location marijuana-infused products are sold, $15 for each card-holder registered to the provider and $1 for each plant.
These funds would be split equally between state parks and recreation areas, the facility and technology account for public schools, certain Medicaid services, and public works.
Pierce said the bill's fee structure draws on some of the regulations Colorado is implementing for legal recreational marijuana and on other states' medical programs.
SB 377 also loosens some restrictions. For example, providers would no longer need to get background checks, cardholders could have 2.5 ounces of cannabis and six mature plants instead of the current one ounce and four plants and post-traumatic stress disorder would be added to the conditions for which cannabis could be prescribed.
The bill is waiting for review by the Senate Judiciary Committee. Wanzenried said he expects the committee to have a hearing on it late next week.
---
While the Big Sky State is still trying to sort out medical marijuana, many other states are moving on toward decriminalization or legalization.
"There's a whole lot of stuff going on in virtually every state but Montana," said Justin Michels, director emeritus of the Montana chapter of the National Organization for the Reform of Marijuana Laws.
According to Michels, eight states, including Oregon, have pending legislation to legalize marijuana for recreational use. A dozen more, including some generally conservative states like Texas, Missouri and South Carolina, are working on decriminalizing it, while 11 states are considering implementing a medical marijuana program.
Montana was ahead of its neighbors when voters established the state's medical marijuana program in 2004. Still, none of the states bordering Montana have implemented medical marijuana systems or decriminalization, and none of them show signs of changing anytime soon.
Decriminalization makes marijuana possession no longer a criminal offense. Fourteen states, including Oregon and Minnesota, have decriminalized possession of marijuana to some extent.
In an historic election last fall, Washington and Colorado legalized marijuana for those over 21 years old.
Not to be outdone, Michels said Montana's NORML is looking to follow suit.
"We're trying to pull together some polling numbers to see if it would be worth our while to go for legalization in 2015," he said.
Even in Washington and Colorado, complications abound and the threat of federal reprisal overshadows efforts at every stage of policy reform.
Marijuana is still banned on the campus of any Washington or Colorado college that receives federal funding. The same is true of medical marijuana for cardholders on Montana campuses.
"The University receives federal money," said Mike Frost, interim director of Counseling and Psychological Services at the University of Montana.
"There's not a university around the country that wants to jeopardize those monies by violating federal law," he added. "We'd be shutting down a big part of our campus if we didn't give out federal financial aid."
---
Lately, campus cops have busted fewer students for marijuana. Last Friday was yet another slow night for University Police officer Nic Painter, in charge of patrolling UM property in search of rowdy drunks, vandals and pot smokers.
"Arresting people isn't fun," Painter said. "I don't find any joy in it. It would be nice to be busier, though."
Resident advisers sometimes add action to officers' shifts when they call in suspiciously noxious smells wafting out from under dorm room doors. But at the dorms' front desks, every RA confirmed there was no trouble that night.
"I don't know if people are getting smarter — they're not doing it in the dorms — or if RAs' noses are getting worse," Painter said, but the calls just aren't coming in.
Painter isn't imagining it. Marijuana use in Montana has declined over the last decade, said Jon Gettman, a professor at Shenandoah University in Virginia, who studies marijuana trends across the country.
But the number of marijuana-related arrests in Montana more than doubled between 2003 and 2007 and has increased across the country, Gettman said, making UM an anomaly.
Arrests by University Police for any sort of drug offense fell from 68 in 2009 to 37 in 2011. The majority of those incidents happened in campus housing.
One consequence of such incidents is a counseling program called Self Over Substance, which combines information sessions with group therapy, which students take when written up for a drug or alcohol violation on campus.
Almost 100 students were mandated to take SOS for marijuana offenses on campus in 2012, Frost said.
Each student paid the program fee, $70, for a first offense and $130 for subsequent offenses, but that only covers about 40 percent of the cost of the program.
The remaining $72,000 in SOS's annual budget comes from students' registration fees every semester, Interim Curry Health Center Director Rick Curtis said.
A student who is referred by an RA for marijuana, alcohol or other drug offenses takes the same SOS program as a student who gets an MIP alcohol citation from police, on or off campus. But if the police are called when a student is caught with marijuana, even on campus, he or she has to take a state-sanctioned misdemeanor dangerous drug program. In Missoula, that means a 12-hour informational course at a privately-operated chemical dependency treatment center called Turning Point — to the tune of $400.
"Your guess is as good as mine for why they have different programs for marijuana and for alcohol," Curtis said. "It's all up to the Legislature. It's the politics of it, I guess."
---
It's not just state legislatures that take up marijuana policy changes. On the national level, several bills that could end the perpetual conflict between state and federal laws await committee review.
The Marijuana Tax Equity Act, introduced by Congressman Earl Blumenauer, D-Ore., would allow the federal government to tax marijuana, in states where it is legal, the way alcohol and tobacco are taxed. Blumenauer also introduced a bill that prevents the federal government from interfering with states' medical marijuana programs.
Congressman Jared Polis, D-Colo., introduced House Resolution 499, the Ending Federal Marijuana Prohibition Act, which would remove marijuana from the federal Controlled Substances Act, leaving states unencumbered by federal laws in deciding their own marijuana policy.
If that bill becomes law, it would be another instance of changes in marijuana policy mirroring the changes that led to the end of alcohol prohibition.
Kyle Volk, a UM professor of American history, said during Prohibition alcohol was illegal at federal and state levels, just like marijuana is now.
"In the mid-1920s, some states started repealing their enforcement legislation and then it was up to the federal government to enforce it if they wanted to," Volk explained.
In 1933, Prohibition ended, leaving states to choose their own alcohol policies. Thirty-three years later, every state had ended Prohibition.
The bills before Congress have the potential to completely change the way states approach marijuana, both medical and recreational. Otherwise, federal law will inevitably overshadow state law.
"Nothing's really going to change until it changes at the federal level," Michels said. "It's a weird situation at this point."